Corporate Sponsors
The Foundation is the primary financial supporter of the ILEAS Conference. However, the Foundation could not support the Conference without the assistance from corporate donors.
A charter corporate donor is Quicket Solutions
Headquartered in Illinois, Quicket offers a comprehensive cloud-based data management and operational intelligence platform for municipalities and counties. From eCitation, eCrash, code enforcement, adjudication, and payment processing to a complete RMS offering, Quicket Solutions is a device-flexible, highly secure, and proven option for Illinois agencies for the collection and management of the most mission-critical information.
Please contact them at: 630-723-7723 or info@quicketsolutions.com to arrange for one of their consultants to visit and demonstrate their technology. Please don't forget to mention that you heard of them through the ILEAS Foundation.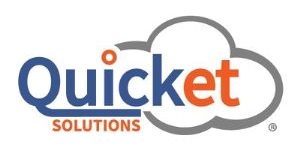 ---

Another charter corporate donor is Sonnenschein Financial Services
Headquartered in Oakbrook Terrace, Illinois, Sonnenschein specializes in municipal and government collections. Sonnenschein is licensed by the Illinois Department of Financial & Professional Regulation and has an A+ Better Business Bureau rating. Municipalities can call upon Sonnenschein to develop a customized program to produce revenue from difficult past due accounts. Sonnenschein has a number of municipal clients in Illinois that utilize their services. If you need assistance with municipal collections, please consider reaching out to them. Please don't forget to mention that you heard of them through the ILEAS Foundation.
Contact:
Managing Director: Joseph Santella
Phone: 630-396-2820
Email: jsantella@sonnenscheinfinancial.com

ILEAS Foundation Receives Grant to Support ICAC
The ILEAS Foundation has received a sizeable grant from Operation Underground Railroad. The funds will be used to support the Internet Crimes Against Children (ICAC).  ICAC is a task force developed to protect children online from predators and other threats which is operated and overseen by the Illinois Attorney General's Office.  Pursuant to the grant agreement, the ILEAS Foundation will purchase over 30 laptops and software for training and upated Cellebrite devices and software and other equipment that will be used in the training and online investigations.  
Representatives of Operation Underground Railroad (OUR) and the Internet Crimes Against Children Task Force (ICAC) will be on hand on August 2nd at 10:00 AM to announce a large grant from OUR to the ILEAS Foundation to support the ICAC.  For more details, please see the Media Release. 
First Tactical Partnership
We are excited to announce that the ILEAS Foundation and First Tactical have joined together to offer a substantial discount on clothing and gear purchased from First Tactical.  First Tactical is offering a 20% introductory discount to all ILEAS Foundation supporters on non-sale items in their online catalog.  They provide quality clothing and uniform items including shirts, pants, gloves, uniforms, outerwear, socks, boots and hats for both women/men  and gear such flashlights, gear bags, pouches, gun cases, knives and watches.  They are a supporter of the ILEAS Foundation and this discount offer demonstrates their commitment.  If you purchase from First Tactical by following the instructions below, not only do you get a 20% discount, First Tactical will donate 7% of the sale to the ILEAS Foundation.  Everyone Wins!  You get a great product at a great discount and the Foundation gets a donation from First Tactical!
In order to take advantage of this offer, all you have to do is to click the banner below which will forward you to their catalog here you can select items you want to purchase.  When you check out, use the promo codes of WELCOME20 for the discount to apply.  You must both enter through that banner link and use the promo code for the discount and the donation.  
Please forward this to friends and family or anyone that you think may be interested in shopping at First Tactical.  While we market and focus on law enforcement and public safety, this offer is available to everyone. Remember the more product purchased, the more resources the Foundation will have to donate to training, equipment and other law enforcement support activities.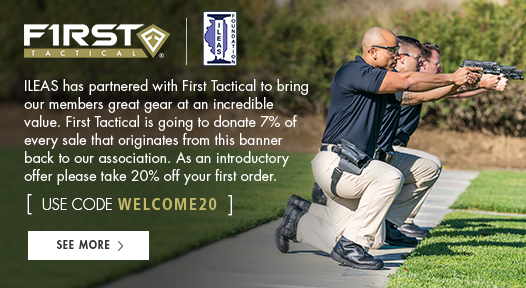 The fine print: 
You can only use this code once as this is an introductory offer (code only accepted online)

The discount does not apply to shipping or items on sale or clearance

The 7% donation comes from First Tactical and is not as a percentage of your purchase

Large agency purchases should continue to go through a local First Tactical Select Dealer

Please contact jim.page@ileasfoundation.org to assist if you have questions
About the ILEAS Foundation
In an effort to better support local law enforcement in Illinois, keep costs down, and provide a wider range of training opportunities, the ILEAS Foundation was created. In 2009 the ILEAS Foundation was formed as a 11-501(c)(3) not-for-profit corporation receiving a 501C3 charity tax status. The Foundation supports local law enforcement in Illinois, outside of the standard government grant process. Support is given to local law enforcement by utilizing donations and private grants, which provides equipment and training to officers and deputies to better serve their local Illinois communities. 
The Illinois Law Enforcement Alarm System—also known as ILEAS—was created in 2002. ILEAS administers federal homeland security grants for the benefit of local law enforcement agencies in Illinois. These grants come with restrictions on the types of equipment ILEAS can provide to local agencies. Additionally, there are strict restrictions on the specific types of training that can be conducted. ILEAS member agencies pay a small dues stipend to ILEAS to manage the grants. Even though costs keep going up, in today's tight government budget environment, ILEAS has chosen not to increase the dues.
The Foundation raises funds through donations, fund raising events, and private grants to support the training and equipment mission of ILEAS and to benefit Illinois law enforcement.
 
The ILEAS Foundation is located at 1701 E. Main Street, Urbana, IL 61802. 
How Can You Help?
There are numerous ways in which individuals, companies or others can contribute to the ILEAS Foundation Mission in supporting the Illinois Law Enforcement community.
ILEAS Gear
Visit the ILEAS gift shop located at the ILEAS Training center, all profits from the sale of ILEAS Gear goes directly to the ILEAS Foundation
Amazon Smile
Use the link below to shop Amazon Smile where a portion of eligible purchases are donated to the ILEAS Foundation
PayPal
Direct Donation to the ILEAS Foundation
eBay for Charity
Shop or sell and support ILEAS Foundation on eBay
Add us as your Favorite charity on eBay to see us as your preferred charity in eBay checkout
You will also be able to donate a portion of your proceeds to us when you sell on eBay AND get some of your seller fees waived and receive the tax credits

Humble Partner Program
Humble Bundle offers its customers the opportunity to support a charity with every purchase they make
ILEAS Foundation, as a Humble Partner, would receive:

15% of each enabled Bundle purchase
5% for each enabled Store purchase
$10 for every new Humble Monthly subscriber

Use Humble Bundle's existing Choose Your Own Charity feature during checkout

All donations to the ILEAS Foundation are considered tax deductible.