News
ILEAS has acquired a Technology Support Vehicle (TSV) as shown here.  It is a former mobile command post that has been retrofitted to a focal point for technology and communications support in the field for emergencies, disasters and significant special events.  It provides a workspace for comms experts to program radios, manage communications systems and provide all sorts of technology support for local agencies during times of need.  ILEAS staff and local volunteers will use this capability to support local law enforcement, fire and emergency management officials.  The vehicle and staff are also available for local agencies to use during local HSEEP exercises.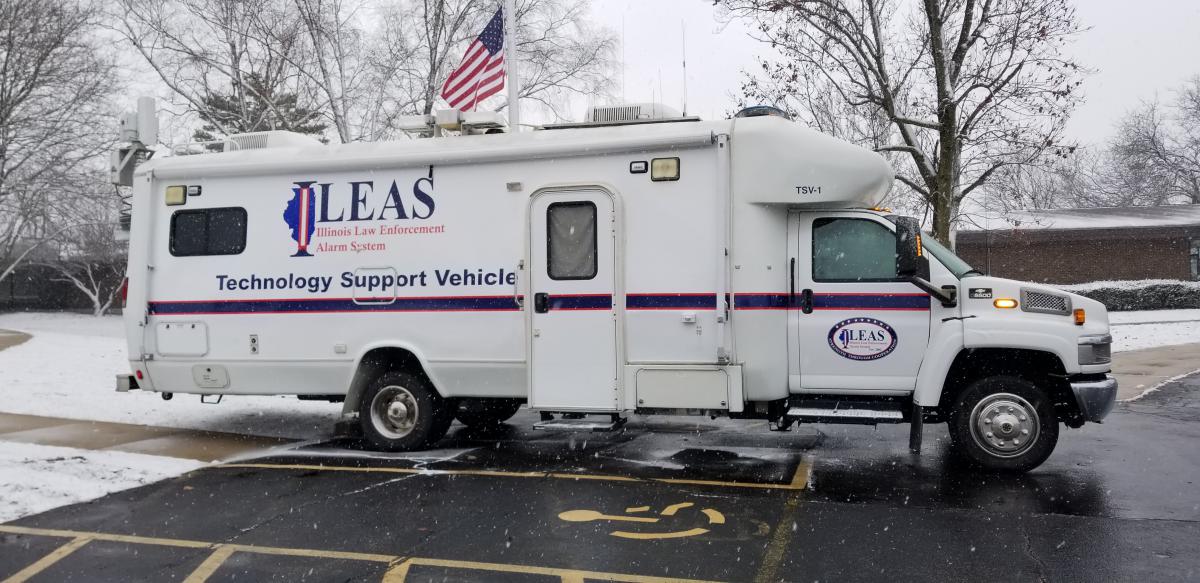 One of ILEAS' responsibilities is field interoperable communications and technology.  Our communications and FirstNet staff work closely with the Illinois State Police, the Illinois Emergency Management Agency, the Illinois Terrorism Task Force and many official Mobile Support Teams to establish communications protocols, training and equipment to local agencies throughout the State regarding interoperable communications during mutual aid responses for disasters and large special events. ILEAS has access to hundreds of cache radios of all types that can be provided to supplement local supplies during emergencies.  We also have the ability to re-establish communications in an area that has virtually no signal or has suffered a catastrophic event that interrupts local radio service.  This includes available dispatch base stations, portable antennas, a variety of satellite radios/phones and ITECS Communications Suites as well as field networking capability and GIS support.  For more information about ILEAS' communications and field technology capability, please contact the ILEAS Communications Manager Russ Gentry or FirstNet Systems Architect Bill Springer. 
| | |
| --- | --- |
| | The military has used video game-style simulations for years to train their soldiers. Now, that technology will be available to train first responders on active shooter incidents. The Department of Homeland Security Science and Technology Directorate and the U.S. Army Research Laboratory joined forces to create a virtual training platform, available free to all response agencies nationwide.  |
First pilot-tested in 2013, Enhanced Dynamic Geo-Social Environment (EDGE) allows responders from law enforcement, fire, EMS, dispatch, and unified command to assume discipline-based avatars and role-play complex response scenarios. Responders outfit their avatar, navigate the simulation and respond to threats based on their department's policies. Each person determines their avatar's actions, meaning the simulation plays out differently each time. EDGE was designed to allow people to take part in training simultaneously from different locations. This supports single- and multi-agency use which reduces training costs due to travel. It encourages different agencies or jurisdictions to train together by reducing barriers. Interagency exercises and drills develop a stronger and more effective response. 
The scenario currently available is of an active shooter at a hotel armed also with Molotov cocktails. A second scenario, a school shooting environment, is planned for release this fall. Agencies interested in obtaining a free copy of the EDGE hotel scenario or who have general EDGE inquiries may contact first.responder@hq.dhs.gov or visist the DHS Science and Technology web page at https://www.dhs.gov/science-and-technology/enhanced-dynamic-geo-social-environment-edge
| | |
| --- | --- |
| | ILEAS is honored to recognize The Kenilworth Police Department for their participation and completion of the Agency Preparedness Program. On 22 January 2018, Chief Dave Miller was presented the ILEAS Agency Preparedness Award at the Kenilworth Village Board Meeting by ILEAS Regional Planning Coordinator, Jim Hutton. Executive Director Jim Page and the entire ILEAS staff commend Chief Miller, Sergeant Padilla and the men and women of the Kenilworth Police Department for their efforts in successfully completing all components of the Program.  |
ILEAS believes the Agency Preparedness Program sets a good foundation for the challenge of readiness. ILEAS hopes to improve and expand upon the Program annually by adding relevant objectives to help your agency stay current and maintain preparedness for years to come.
Since inception, ILEAS has remained committed to enhancing Law Enforcement mutual aid through its motto: "Strength through Cooperation". We feel this program is another way agencies can prepare themselves before disaster strikes in order to come to aid of the citizens they serve. For more information on the ILEAS Agency Preparedness Program, go to your ILEAS member site and click agency preparedness program (APP). If your Agency would like to participate in this program, please contact your ILEAS Regional Planning Coordinator